Hi everyone!  I hope you are having a very Happy Thanksgiving!  My favorite thing about today is that it reminds me there is so much to be thankful for–and I think, like a lot of people, I forget this way too often.  Family and friends, good health, food (especially green bean casserole, yum!), shelter, kind people with good hearts and bookshelves overflowing with amazing books.  I also found this yesterday which made me pretty ecstatic :).  ADORKABLE was one of the most read this week in sports romance books on Goodreads!!!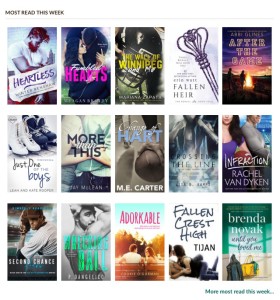 Woohoo!  So thankful for this and the fact that people are still reading my books.  I've been writing this month–yay, yay, hooray!–and I'm thankful for that as well.  My work in progress is a story I loved from the very beginning, and I'm falling more in love with the characters as I continue.  Hopefully, I will have some book updates soon, but until then…
Happy Green Bean Casserole Day, everyone!

Happy reading,
Cookie O'Gorman