I received my NINJA GIRL proofs today, and opening the box, taking the book out, holding it in my hands was just *sigh* a truly amazing feeling!  Thank you SO much to Stephanie Mooney for this beautiful cover–she is magic, you guys!  This week I've been a bit under the weather–but I have to say seeing NINJA GIRL in print was a much needed pick-me-up :).
I hope it will do the same for you!
Here are the book pics–I took several because I was so excited, but I'll limit it to three here lol.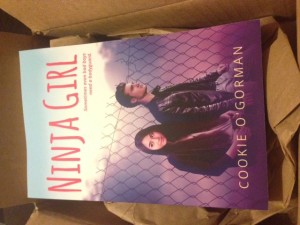 Here's the paperback as it looked in the box…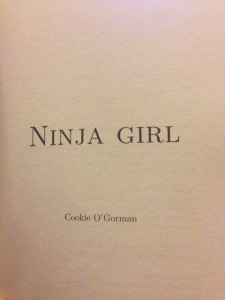 …the awesome title page…

…the spine of the paperback <3.
I love, love, love it so much!!!!  That color fade on the spine?  Just WOW, and the book itself, I keep staring, but I can't help it–and I don't really want to lol.  I cannot wait to add it to my shelf right next to ADORKABLE :).  If you were one of the people who asked about if/when NINJA GIRL was coming to print or if you wrote a kind review/comment, THANK YOU!!!!!!  This one is for you, and I hope the print book finds even more readers who will love Snow and Ash's story <3.
I will be releasing NINJA GIRL in paperback on December 14, 2017!!!
As long as Amazon doesn't do anything weird, it should be available next Thursday (just in time for Christmas!).  Whether you've read the ebook or not, I hope you'll check it out!
Happy reading,
Cookie O'Gorman