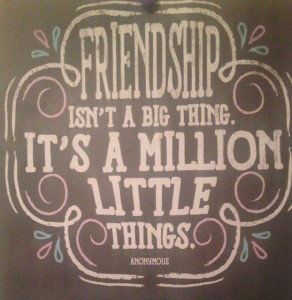 There's this moment in Tombstone where someone asks Doc Holliday why he's doing all this (as in, why is he fighting so hard and putting his already failing health at risk).
Doc says simply, "Wyatt Earp is my friend."
The Other Guy scoffs and says something like, "I got lots of friends."
After a long pause, Doc says, "I don't."
I have always loved this friendship, and I've always felt a kinship with Doc because, like him, I only ever had one true best friend.  She is my favorite person of all time.  I love her so much and would've done anything for her–including facing down Johnny Ringo in her stead.
But I didn't get that chance.
My best friend passed away last year from cancer, and I miss her every moment of every day.  She passed before getting to see me publish ADORKABLE, which I will always regret.  Each day is less without her here.  I am less, too.  Part of me, the very best part, died with her, and I am still not at peace with her passing.
But, I will tell you…I was blessed to know her.  I was blessed to have her in my life.  I was blessed to be raised by her, to experience her humor, great taste in music, movies and books, and to witness her innate goodness.  And I was blessed to have her as a best friend.
Doc had it right.
You only need one.
And if you have a best friend like that, well, then I'd say you're pretty blessed.
Happy birthday, Aunt Pat.  I finally published that book you loved so much, and some people loved Sally and Becks just like you said they would.  I'm sure you're doing the I-told-you-so dance up in Heaven, hanging with Mema, the babies, David Bowie, and Alan Rickman.  You're probably smiling over the fact that I referenced Tombstone to describe our friendship (it's true, though).  I love you, miss you, and hope you are well.  Love, Your Cookie
Hope you all have a great weekend filled with good times and great friends.
Happy reading,
Cookie O'Gorman