First post of the new year, whoop!
It's a time for new beginnings, new hopes and a fresh start.  It's also the time for resolutions, but to be honest, I've never been a big fan of those.  They are so easy to break.  And it's so easy to feel like a failure when that happens.  Ugh.
So instead, I set goals.
Some are writing-oriented like: Publish a book.  Finish writing my current WIP.  Try new things with marketing/promotion.  Keep being thankful and doing giveaways because readers rock!  Write more, write better, write something I would love to read.
Others are more personal like: Be a better person.  Make someone's life easier.  Restore and strengthen my faith.  Exercise more, worry less, keep heart and stay positive.
I ended 2017 surrounded by the people and the books that I love <3.  I'm hard at work on my next books, and I hope that readers will want to read them.  A goal that I've always had (and continue to have in 2018) is to write the best book possible for my readers and myself.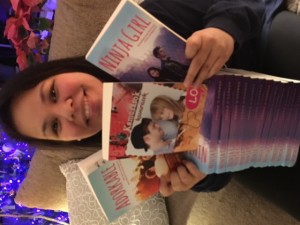 So, how is 2018 treating you so far?  Any resolutions or goals for the new year?  Any new books? 😉
I hope you're all doing well and that you're having a wonderful week!
Happy reading,
Cookie O'Gorman
P.S. Another goal for 2018: Figure out why the pics in my posts end up sideways on computer but right on mobile devices lol!