I can't believe it's here!  Today is the day, my adorkable ninja readers, the day that Snow and Ash make their big debut in print <333.  And I've gotta say:
Happy Paperback Release Day, NINJA GIRL!!!!!!!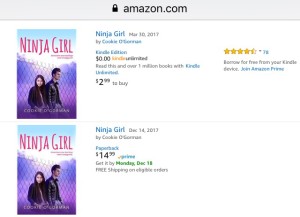 It's live, you guys!  Snow and Ash's story is now available in another format, and I'm so excited.  I hope readers embrace their story, and the mix of action and romance.  I hope they love the strength, the chemistry, the funny, and of course, the swoon in NINJA GIRL.
Oh my Ash, do I hope they swoon :).
I can honestly say that this–publishing my second paperback–is just as exciting (and nerve-wracking lol) as the first time.  I care about my characters, and the experience of seeing a physical copy of their story, the beautiful cover, the real-life pages, knowing all the feelings and time that went into writing this little YA romance?  Ahhh, it is a truly amazing feeling <3.
Also, print books are just awesome!  I only give them to the people I really like lol.  I don't loan mine out because I'm afraid of bent pages and torn covers (shivers).  As much as I love my iPad–and I definitely do!–books you can hold in your hand are irreplaceable.  Some people only read print books.  So, I'm hoping NINJA GIRL will find even more awesome readers and that Snow and Ash will find a place in their hearts and on their shelves.
And it's just in time for Christmas!!!
I love getting books for Christmas, so hopefully NINJA GIRL (and ADORKABLE) will find its way under some bookish person's Christmas tree lol :).  As always, thank you so much for your support, and I hope you're having a wonderful week!
Happy reading and Happy Paperback Release Day,
Cookie O'Gorman
P.S. I'll be doing a giveaway tomorrow to celebrate, yayyyy! 🙂