I've been saving this for today lol!
Not sure when I found the link, but I thought these Valentine's Day cards were so cute/funny :).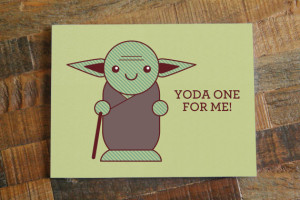 Sally would've been all about that Yoda card–and Becks would've loved it because it was from his girl.  Sigh…seriously, so ADORKABLE!!!  If you haven't found that special someone to tell you "Yoda one for me," don't let it get you down!  Go out and buy a heart-shaped box of candy for yourself.  Pull out your favorite chick flick (book or movie, doesn't matter) and have a swoon fest.  Or heck, get dressed up and go out dancing if that's what you love to do.  Tell the person you love–whether they're family, friend or a beloved pet–how much you love them.
For that matter, look in the mirror and tell yourself that <3.
Whether you're a hopeless (yet slightly cynical) romantic like me or something else altogether, I hope you have a very happy Valentine's Day!  And I hope you buy yourself some chocolate…and a great book.  You deserve it! 😉
Happy reading,
Cookie O'Gorman