Isn't that the most adorkable book tree you've ever seen???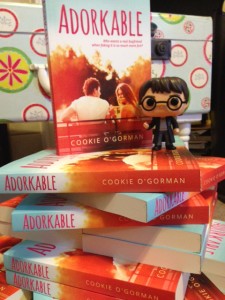 Mister Potter seems to think so :).
Okay, ADORKABLE readers, I have something just for you.
Since this is the first book I've ever published–and it will always be my first, my book baby, sigh–I wanted to do something special to celebrate this Christmas.  And what better way than to give back to the ADORKABLE readers?
Tomorrow, December 21, 2016 at 12:00 pm EST I'm going to do a few quick giveaways on Facebook.  I'll be giving away three $5 Amazon gift cards and one ADORKABLE paperback.  Signed or unsigned, if you win, you decide!
All you have to do to win is be first to correctly answer a few questions (one per giveaway) about ADORKABLE.
Easy, right?
Like I said, I really wanted this one to be for the readers, and it may completely flop.  My fear is that no one will show up or even attempt the questions lol.  But you never know until you try, right?
If you want to participate, I'll see you at 12:00 pm EST on the Cookie O'Gorman Facebook page!
Good luck, and I hope you're having a great week.
Happy reading,
Cookie O'Gorman
P.S. The ADORKABLE e-book is only $0.99 on Amazon and Amazon UK for a limited time!  The Kindle Countdown Deal will last until December 25, 2016.  If you have any friends who'd be interested, please let them know and spread the word so they can get the deal before it ends.  Merry Christmas, everyone!