Okay, I did it.  I pushed the button–it's actually really something.  There are a lot of nerves and deep breaths involved for such a simple thing lol.  But after hitting approve, I stayed up to make sure the book actually published, and it did!
ADORKABLE is now available in paperback.  332 pages, two best friends, one beautiful cover, and all the dorki-ness and heart of the original e-book.
Siiigh…ain't it beautiful?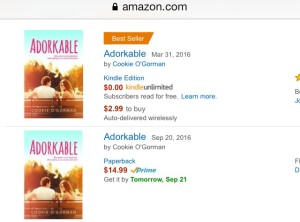 Yay, yay, yayyy!  It's actually out there.  The paperback version of ADORKABLE can currently be found at Amazon and Createspace as well as Amazon European stores.  Eventually, the two versions should be on the same Amazon page (but tbh I have no idea how long that will take).  Other channels, like B&N, may pick it up eventually.  Thank you so much to everyone who has supported this little book of mine.  I really do love these characters, and I'm so happy that many of you have as well <3.  It's because of you that I decided to make this leap and create the paperback version of ADORKABLE in the first place, so thank you!
Again, I have no idea how many people will actually want a physical copy.  But if you do: It's out there! 🙂
Happy Paperback Release Day, everyone!!! I hope you have a great week!
Happy reading,
Cookie O'Gorman