So first of all, here is my ADORKABLE shelfie :).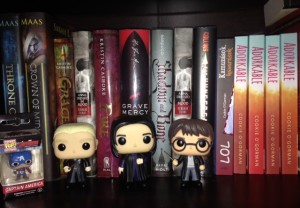 Not sure if I've mentioned it, but in addition to YA romance, I am a BIG fan of YA fantasy–obviously lol.  You'll also notice the Slytherins outnumber the Gryffindors in this picture *gasp*.  (Although I'm pretty sure Captain America would be a Gryffindor.)  And next to those guys, I have my book babies, Kamuzások, kavarások and ADORKABLE <3.  Four copies of ADORKABLE–one for each of the places the book is sold–and one copy of my beloved Hungarian debut!  Speaking of which…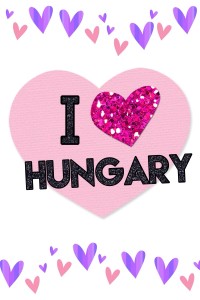 To all of the LOL readers who posted their shelfies: Imádom, imádom, imádom!!! <333333  I just loved looking at all of your beautiful book pics–and seeing that you're #TeamBecks ;).  Tija, I feel like you are my bookish fairy godmother or something, and I am so so grateful to you!   I might get this wrong, but…köszönöm! Köszönöm szépen!  You all rock and so do your awesome bookshelves :).
Thank you for making my week, and I hope you have a great one, too!
Happy reading,
Cookie O'Gorman