Full disclosure: I have taken several Harry Potter quizzes (ones to determine: the house I would be in, which HP character I am, what my patronus is, what I would teach if I was a teacher at Hogwarts etc.).  BUT I have yet to actually go onto J.K. Rowling's official site, Pottermore, and be sorted.
I know!  It's crazy, and I can't, absolutely cannot, believe I've waited this long!
And now, apparently there is an American wizarding school :-D.
My goal for this weekend (one of many, but an important one!) is to finally find out which house I will be sorted into.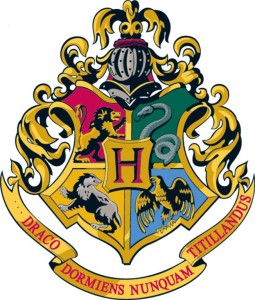 From past quizzes, I'm fully expecting a Hufflepuff-ian outcome–but maybe not.  I've always considered myself more of a Gryffindor, but heck, I love books and reading.  Ravenclaw qualities, but Hermione loved those things, too, and she ended up in Gryffindor.  Severus Snape was my favorite HP character.  Hands down.  Always.  So maybe, I'm actually Slytherin at heart?  Though I also loved Neville and Harry, Ron and Hermione, of course.  Oh, and Luna!  Something also draws me to the Malfoys–I'm pretty sure it's the hair lol!
Anyway, the point is I really don't know what the sorting hat will say.
I will also be taking the quiz for the American wizarding school, Ilvermorny.  But let's just be honest, Hogwarts is really the thing!  I also can't wait to find out what my wand will be made of.  Yes, I am completely letting my geek flag/Harry Potter fangirl side have free reign right now lol!
I'm nervous and excited to see where I end up.  I mean, it's Hogwarts!!!
Have you been sorted?  Did you get the house you thought you would?
Hope you have a great weekend, and I'll let you know how everything goes :).
Happy reading,
Cookie O'Gorman
P.S. ADORKABLE was #1 in Germany and Canada this week in one of its categories!  Huzzah!
P.P.S.  There's still time to enter the ADORKABLE 3 Month Anniversary Giveaway!  You can enter here.  Good luck!